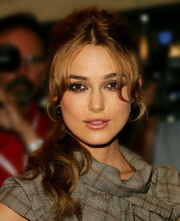 Cynthia Serenity Carras
(born ), is an American
dancer
and
professional wrestler
best known for best known for her work in
World Wrestling Entertainment (WWE)
and her stint in World Championship Wrestling (WCW), under the name
Serenity Cyn
. She is currently signed to
Total Nonstop Action Wrestling (TNA)
under the name
Cyn
.
Professional Wrestling CareerEdit
Early CareerEdit
Carras began training to be a wrestler immediately after high school with her best friend, Roxanne Henderson.
In the summer of 1998, Henderson and Carras traveled to Atlanta, Georgia in the hopes of entering the WCW Power Plant. The two planned on paying the $3,000 required, using the money they had earned over several summers and other small jobs.
Since the two girls were still not eighteen by the time they arrived at the Power Plant, they had obtained written permission from their families.
Once in Atlanta, the two immediately sought out the facility in which the training would occur because the following day would be their tryout day. And they didn't want to get lost and miss their chance.
World Championship Wrestling (1998-2001)Edit
While Henderson and Carras were accepted into the Power Plant (even after arriving almost 20 minutes late to the tryout session) they weren't given their money's worth, at least this is what Henderson (and more recently Carras) believes. This was mainly due to the fact that they were girls, very few women entered the Power Plant, and the ones that did didn't go for the wrestling. Despite that, the two stuck through the training they were given.
When Carras and Henderson were offered jobs at the WCW shows at the end of 1998, the two were ecstatic, Carras more than Henderson. When they were originally offered the jobs, they had not been told what it was that they would be doing, both assumed they'd be working as wrestlers. However, WCW had other plans and placed them as Nitro Girls; Rayne and Serenity.